Children's Dentistry in Woonona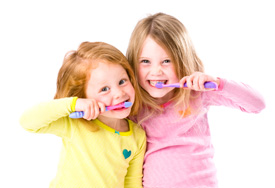 Just as it's essential to take your child to the paediatrician for regular checks and physicals, it's likewise important to take your child to see the dentist, starting from when they begin to get their first teeth. By familiarising your child with the dentist from a young age, they can know what to expect with routine dental care.
Creating a Lifetime of Smiles
By seeing your child from an early age, at Woonona Dental we're able to familiarise them with the dental care environment and help them feel at ease when it's time for a checkup. Plus, we can screen for potential oral health concerns, so that they can be addressed at an earlier and more affordable stage.
Topics We Can Address
Patient education is a big part of what we do. We educate both you and your child about the importance of the following:
Proper oral hygiene during pregnancy for you and your developing baby
Caring for baby teeth to foster good habits and to protect secondary teeth
Bringing in your child for an initial visit and maintaining a proper oral hygiene schedule to prevent tooth decay from occurring in the first place
Addressing tooth decay, even in baby teeth
Maintaining the space for a permanent tooth by maintaining space when a baby tooth falls out prematurely
Correcting any chipped or broken teeth
How to have a pain-free, no-stress dental experience that will keep your child comfortable and relaxed
HOW CAN WE HELP?
Your child's dental health is paramount to us. We want them to have teeth to last a lifetime. You can be assured that we will do whatever we can to help them attain and maintain optimal oral health. Contact Woonona Dental today!
ASK US ABOUT THE CHILD DENTAL BENEFIT SCHEDULE TODAY
Your child may have access to benefits for basic dental services (capped over 2 years).
Includes check-ups, X-rays, cleaning, fissure sealing, fillings, root canals and extractions.
Your child may be eligible if:
They are aged 2 to 17
They are eligible for Medicare, and
You or your child are getting Family Tax Benefit Part A or certain other government payments.
Contact Us Today!
Contact Woonona Dental to schedule your appointment or for further information! Our staff can check if you are eligible to the CDBS schedule.

Children's Dentistry Woonona NSW | (02) 4284 2557