Veneers in Woonona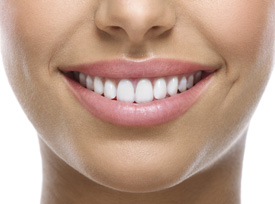 When you're ready for a smile makeover, it's time to ask Woonona Dental about dental veneers. Veneers are thin, porcelain restorations that we bond over the visible surfaces of your front teeth, changing the way they look when you smile. They're idea for minimizing the appearance of problems such as:
Chipped or uneven teeth
Discoloration and staining
Crooked or crowded teeth
Each Veneer is designed in a reputable local dental lab
What to Expect During Treatment
Getting dental veneers usually takes a couple of appointments across the span of about two weeks. After your teeth have been prepared we'll start to create your permanent veneers. You'll wear temporary veneers in the meantime, to limit any sensitivity. Once the porcelain restorations are ready, we'll bond them permanently to the front of your teeth. Be careful not to use your veneers to open packages or bite into anything hard, like ice. Although they're strong, the porcelain can still chip if you don't look out for them.
If you tend to grind or clench your teeth, consider getting a protective bite splint to sleep in at night. Veneers are stain resistant, but they can still collect surface discolorations from things like tea or coffee. Care for your new smile the way you would your natural teeth, brushing and flossing regularly and scheduling a checkup every six months.
Caring for Your Veneers
Because veneers represent an investment in your smile, you will want to practice good oral hygiene habits such as brushing and flossing so they can last for a long time. You also should avoid biting your nails or chewing ice as these habits could damage your veneers. It's okay, however, to eat crunchy foods such as apples or raw carrots.
Schedule an Appointment Today!
To find out if veneers are right for you, schedule an appointment with Woonona Dental today!

Veneers Woonona NSW | (02) 4284 2557