Root Canal Treatment in Woonona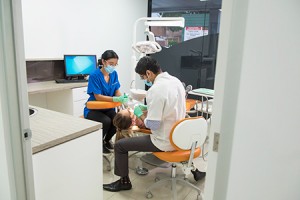 The Woonona Dental team focuses on giving you a positive, comfortable experience at each of your visits to our practice. Many services are available to you and your entire family, and you can rest assured that we'll discuss all possible treatment options with you, deciding together what is best for your situation. When necessary, we offer root canal treatment to save your tooth from needing to be extracted.
How Do I Know If I Need a Root Canal?
Though not every toothache indicates trouble, you may experience one or more of the following indicators of an infection that may warrant a root canal:
Severe pain during eating
Lingering sensitivity to hot or cold
Gum tenderness or swelling near the area of tooth pain
Choosing a Root Canal
This procedure may be indicated if the decay present in a tooth is nearing the tooth's nerve. Your jaw has a nerve supply that runs to all teeth, providing it with the blood flow it needs. If the decay is present in the nerve, it will die out, and infection can result. If you already have an infection or there is an abscess, a root canal is usually an appropriate treatment.
If you've been putting up with tooth pain, don't delay seeking care. Your caring and gentle dentist at Woonona Dental will help get you out of misery and smiling before you know it.
Want to Learn More?
Contact Woonona Dental today to schedule your appointment or for further information! If you're in pain, we'll see you in an emergency appointment as quickly as possible.
CONTACT US »

Root Canal Treatment Woonona NSW | (02) 4284 2557