Mouthguards and Splints in Woonona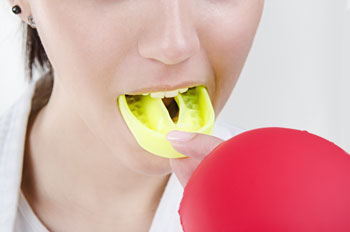 If you play sports or grind your teeth, you need to protect them! At Woonona Dental, we provide custom-fitted mouthguards and splints.
Custom Fitted Sports Mouth Guards
Custom fitted mouth guards are recommended for people participating in high contact sports and leisure activities, they are personalized to your mouth and teeth and allows for a close fit which reduces the risk of dental injuries whilst participating in sports.
Custom-fitted mouthguards are preferable to store bought ones that typically involve a heat-and-bite fit. These mouthguards don't offer the same level of protection as our custom guards. Another disadvantage of over-the-counter mouthguards is that they don't fit snugly. As a result, they don't adequately protect the mouth or face in the event of trauma or injury.
Occlusal Splints
Do you experience jaw or facial pain or headaches as a result of grinding or clenching your teeth? Teeth grinding, also known as bruxism, usually takes place during sleep. People often grind their teeth due to stress or anxiety. Grinding can damage your teeth by cracking, chipping or wearing them down. If you've invested in significant dental work such as veneers or crowns, you risk damaging your teeth and throwing away the money you've spent to restore your smile.
We offer a solution to teeth grinding by creating a occlusal splint or night guard that you wear while sleeping. These oral appliances can prevent discomfort or damaged or broken teeth. First, using a special mold, we'll take an impression of your upper and lower teeth. From these impressions, we'll create a splint so that it fits perfectly to the contour of your teeth.
Start Protecting Your Teeth
Ensure that your teeth are protected by scheduling an appointment at our practice today!

Mouthguards and Splints Woonona NSW | (02) 4284 2557